SmartMeter
receiver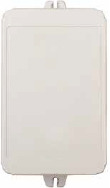 This repeater can collect up to 6 different modules
It returns the data set through the SIGFOX communication band. It makes it possible to receive frames from different modules. The repeater compiles them and sends them through the Sigfox network, this amounts to making a mini network.
Reference
H0E-006-003-OMS-SIG
Download documentation
Technical specifications
Frequency : 868Mhz
Encryptions : AES 128 or 256 or no encryption at all if the client wishes.
Communications
Technology : WHO / Sigfox
The advantages of the product
For a single communication cost, the repeater offers the possibility of reading several meters
Allows data to be traced from hard-to-reach areas, eg level -4 and even higher
It is 100% self-sufficient in energy and it only works on batteries.