SmartMeter OMS
Valve cable 200cm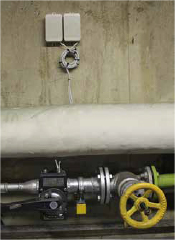 Allows you to know the position status of a valve, whether it is open or closed or between the two.
Work on pre-established contactors with their open-closed-intermediate position, depending on where the position of the valve is, the signal is transformed and sent by radio.
Reference
H0E-006-003-OMS-Valve
Download documentation
Technical specifications
Frequency : 868 Mhz (LoRawan)
Encryption : AES 128 or 256 or none as per customer request.
Communications
Technologies : OMS / LoRawan
The advantages of the product
Allows to make communicating valves, very useful in order to know during an incident the position of the valves and thus to remove doubts.